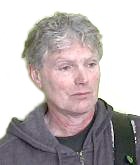 This personal site covers a wide variety of topics including science, mathematics, computing and music. Use the tree navigation on the right to browse through them.

Many articles are continually reviewed and updated. In particular life sciences - a compilation and physics - a compilation which archives and discusses interesting scientific concepts, and homespun philosophy - covering topics and ideas based on the humanistic sciences. There is also my blog which is rather infrequently used since most of my entries end up on other relevant pages.

Following listings cover the most recent additions - latest ones listed at the top.